Thank you all for joining us for Shorts Week! We all hope you enjoyed the reviews we wrote, and may have even watched some of the anime shorts yourself. However, all good things must come to an end. We'll be reflecting back on Shorts Week now by doing a post about our favorite anime shorts. Just to note, we are considering any anime with an episode run time of less than 10 minutes a short. So, enjoy!
RishRaff: Onsen Yousei Hakone-chan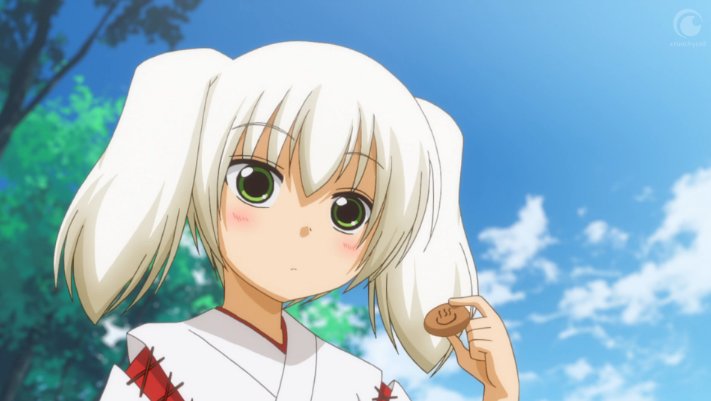 Unlike my colleagues, I have been enjoying the anime shorts since my earliest anime days, and sometimes even prefer the format to the full length episodes. As such, I have watched a relatively large number and had a hard time picking a favorite. A number of those we reviewed this week rank among my favorites, including Tonari no Seki-kun and Honobono Log. Yet, my true favorite is one of the very first anime we reviewed: Onsen Yousei Hakone-chan. From a critical standpoint, this anime is not the greatest. However, as a sucker for white haired characters, the title character immediately drew my attention. That and the quick laughs give this anime plenty of charm that I woud recommend for anyone.
Check out our review for this anime HERE.
B-Ro: Danna ga Nani wo Itteiru ka Wakaranai Ken
So when we started to talk about writing this I was sure I was going to write about Honobon Log, but I Don't Know What My Husband Is Saying just blew me away. To be honest I did not even think I liked anime shorts that much be for this week, but boy was I surprised. It had surprisingly deep characters who developed throughout the show. Which was way more than I expected from a short. It is also very funny. It has references to anime, sexual humor, and crude humor which are all hit right on time and not so often that you get sick of them. I cannot recommend this short enough. Everyone should really give this anime a shot. If you need more convincing then check out our review on the anime. – B-Ro
Check out the review HERE.
LowKev: Tonari no Seki-kun
Admitedly, I generally don't find myself enjoying shorts as much as full on shows. Probably because it's harder to get into a story or characters with a shorter runtime. However, I do love the shorts format, and there are some really amazing ones out there, such as the hilariously interesting I Don't Understand What My Husband is Saying, or the trippy fun that is Di Gi Charat. However, my favorite short so far would have to be Tonari No Seki-kun. This show really uses the shorts format to its full potential, taking a simple idea and running with it in numerous fun and interesting ways. It always managed to leave me laughing and having a really good time. It also has the best music I have heard so far, with an opening and closing that fits perfectly with the concept. It's the show I can see myself rewatching the most for some quick fun, and that makes it my personal favorite (at least until I finally watch Nyanpire)
Check out the review HERE.
What's your favorite anime short? What did you think of Shorts Week? Be sure to comment and let us know!
Thank you all for your support this week! We had a lot of fun doing this theme week and hope to do something similar in the future. See you for the next review!