Greetings everybody! Today we have another Our Favorites, and are happy to unveil the true geeks we are. We will with the utmost pride unveil our waifu, and yes, these are 100% legit. Anyway, let's get on with it!
RishRaff: Eyepatch Girl (Another)
I am just so stunned by this girl. She seems like such a cheerful, upbeat, and normal person. But the mystery of not knowing her by any other name beyond "The eyepatch girl" is what really gets my goat. If you see her, just let me know if she is alive and doing well. Heck, she is so sweet, nothing bad could ever happen to her.
Check out our review of Another HERE
B-Ro: Akane Kajiya (Romantica Clock)
When we decided to do an our favorite waifus I instantly knew who I was going to pick, Akane Kajiya. She is just the perfect waifu. She has a great personality that makes her feel real. She may have some struggles, such as not being able to get out from her brothers shadow, but her hard ships is just part of what makes her such a great character who feels so real. Also let's face it she is just so cute even when she is mad, which who does not want that in a waifu? There is just nothing wrong with this character even though she is only in a three episode anime that is a minute and a half each episode. All of this goes to show that Akane is the perfect waifu (and no, you cannot have her she is mine!). – B-Ro
Check out our review for Romantica Clock HERE
LowKev: Mitsuka Yoshimine (DearS)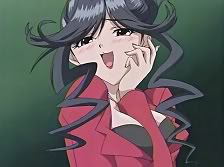 This has been pretty difficult for me. The waifu wars have been waging inside me. An internal tempest of kawtaii and female character development that seemed never ending. Well, I have now emerged with a clear Victor. I am sorry Girl from AAST from Mars of Destruction. Even though you are a blast to watch with an explosive personality and a great head on your shoulders, my cartoon heart belongs to another. That one is Mitsuka Yoshimine, otherwise known as the teacher from DearS. Yes, I know what you're thinking, "LowKev, you need a better social life", or maybe that's what I'm thinking… but you might maybe probably not be also thinking that I have expressed my hatred of this character before. Well, hate and love are but two sides of the same coin, and my eyes were recently opened to the waifuiness of this character. What opened my eyes, you may ask? "Plot". As in "plot convenience". As in, "I don't know, for the lols?". But anyway, this character makes me want to forget the entire English language just so she can teach it again to me. If that's not true love, then I really should take my own advice and go out more…..
Check out our review for DearS HERE
Also, in case you didn't figure it out by now…
APRIL FOOLS!!!
Alright, that's it for this party, see ya next year!